11th ANNUAL FORUM aND CONFERENCE
on Ethical Leadership and Corporate Social Responsibility
" OUTBEHAVING YOUR COMPETITION "
DATE: MONDAY MARCH 18, 2013
Latour Room, Nazareth Student Center
Marywood University
TIME: 9:30 a.m. COFFEE AND MUFFINS Sessions: 10 a.m. – 8:30 p.m.
SESSIONS WITH NOTED SPEAKERS BEGIN AT 10 a.m.

"Find the good and Praise it."
These are words spoken by noted author and historian, Alex Haley. In keeping with this concept, the business programs at Marywood University have conducted a Forum on Ethical Leadership and Corporate Social Responsibility each year to prove that many prominent international and local businesses of all kinds conduct themselves in an admirable way and have prospered accordingly. When the forums began in 2002, our country was reeling as a result of the Enron scandals and several other scandals that tarnished the reputations of the organizations involved. The media is quick to pick up such negative stories and, sadly, these scandals continue in every area from business to medicine to athletics, politics and even in religious environments. Unethical behaviors are an "equal opportunity" phenomenon! Rather than paint our whole society as "corrupt," it has been our objective here at Marywood to feature those organizations, both profit and non-profit, that practice business ethically and have a strong commitment to social responsibility. Some of the companies that have participated over the years include: Prudential, Cisco, Penn Security, Hewlett Packard, EOTC, Oliver Price & Rhodes, Catholic Relief Services and a host of others. Accomplished executives from various organizations have visited Marywood's campus to enrich attendees with interesting stories and statistics illustrating ways in which their companies, in large part through ethical and competent leadership, enjoy both a robust bottom line and a reputation for giving back to the community and, in some cases, the world.
Doors open at 9:30 a.m. for registration, coffee and muffins. The first session begins at 10 a.m. and sessions continue throughout the day. At 7 p.m. there will be a key note address by attorney Jane Carlonas of Oliver Price & Rhodes followed by a Q & A and a networking reception.
The Forum/conference is open to the public.
For additional information, contact Dr. Gale Jaeger, program coordinator, at galejaeger@gmail.com or at 348 6274.
conference program: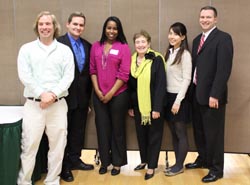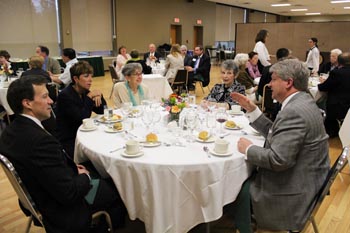 PROGRAM AGENDA
9:30 sign in/ registration
Coffee, Juice, Muffins & Scones
9:45 a.m. Welcome, Dr. Gale Jaeger, Business Faculty and Conference Coordinator
Remarks, Dr. Art Comstock – Chairman – Dept. of Business and Managerial Science
10 :15 a.m. Dr Bernard Prusak: Director of the Ethics Center- Kings College
The philosophy of Ethical Leadership and the Ethics of Business
11:15 a.m. Ms. Pamela Genske: Director Human Resources - Prudential Retirement
Ethical Leadership and CSR as Central to Human Resource Practices
12:15 p.m. Lunch as you like it. Visit one of the Marywood eateries
1:15 p.m. Net Impact: Students for Responsible Business Power Point
Presentation, Discussion and registration – Dr. Murray Pyle
Ms. Paula Ralston Nenish - Business faculty
2:15 p.m. Mr. Lane Bunkers: Sr. Program Development Officer,
Foundations & Corporate Engagement : Catholic Relief Services
Global Aspects of Ethical Leadership and Corporate Social Responsibility
3:15 p.m. Dr. Tony Mussari Professor Emeritus Kings College:
Author and Documentarian
Historical Examples of Ethical Leadership in American Culture
4:15 p.m. Dr Ann Henry: VP Global Operations: Cisco Capital Systems
Realizing Your Competitive Advantage Through Best Practices in Ethical
Leadership and Corporate Social Responsibility
5 :15 p.m. Break
5:30 p.m. Dinner by invitation – Latour Room
Welcome - Dr. Fran Zauhar, Dean College of Lliberal Arts and Sciences
Remarks: Sr. Anne Munley, IHM, PhD To Be Confirmed
Blessing: Sr. Catherine Luxner, Director, Campus Ministry
6:30 p.m. Remarks from program sponsors: Prudential and One Point
7 p.m. Key Note Address:
Attorney Jane Carlonas: Oliver, Price & Rhode
Practicing the Law as an Ethical Leader in Pursuit of Best
Practices and Corporate Social Responsibility.
Moderated by Marisa Burke, WNEP Director and Anchor
8 p.m. Q & A segment Refreshments and Networking to follow
8:15 closing comments - Dr. Gale Jaeger
Find the Good and Praise it.
Alex Haley
JOIN US FOR CONVERSATION AND REFRESHMENTS
This conference/Forum has been brought to you by the Business and Managerial Science Programs at Marywood University. Our gratitude extends to all participants and all who have supported our efforts over the years.
If you would be interested in participating in future events, please contact the coordinator, Dr. Gale Jaeger at galejaeger@gmail .com.
Thank you for coming. We hope you found your time here at Marywood both informative and enjoyable. Visit us again!